OUR MISSION
Having a criminal record or a suspended driver license make it so much harder for residents to find work and housing. These issues affect tens of thousands of Durham residents, many of whom cannot afford legal representation that could assist them in expunging criminal records, restoring driver licenses, or getting certificates of relief. Currently, our community is able to provide pro bono legal assistance in these areas to only a few hundred residents each year. As a result, thousands who live in low income households suffer worse consequences than those from wealthier households who have been charged with similar offenses. These consequences disproportionately affect Durham's black and Latinx residents. The Durham Expunction and Restoration (DEAR) program seeks to change this.
DEAR is a collaboration of local government, court, and community actors who together embrace a vision for a court system that ensures all parties, regardless of race, gender, ethnicity, sexual orientation or income, have equal access to the legal relief guaranteed by law, and vision for a city that believes in second chances.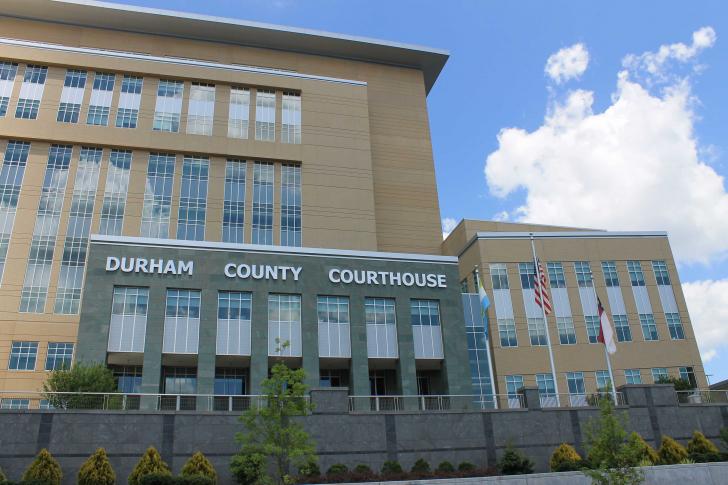 We, as a collaborative body representing various interests to the City of Durham, recognize that in order to realize a just and equitable court system that has historically disenfranchised the voices of marginalized members of our society — voices of people of color and those without financial means to access the system — innovative and unconventional approaches to re-imagining the justice system are necessary. The partners who are coming together to create DEAR say, as one voice, 'DEAR Court System, we can do better.'"
OUR VISION
DEAR will exponentially increase Durham's capacity to provide legal relief from the collateral consequences of justice-involvement by making legal services easier and safer for residents to access, faster for courts to administer, and more efficient for pro bono attorneys to provide. By applying a racial equity framework, using data-driven approaches to better target legal services to those who are eligible, and building new technology platforms that empower more residents to handle less complex legal needs without an attorney, we believe Durham can match the output of all other NC counties combined and be serve as a model program for our state. Through cross-boundary collaboration, we will bring system and community actors together to re-imagine our criminal justice system and the various laws, policies, and practices that have perpetuated inequity.
The DEAR Advisory Board is an informal body comprised of representatives from each partner to the DEAR Program, jointly chaired by Judge Amanda Maris (Expunction Program) and Judge Josephine Kerr Davis (Restoration Program). The role of the Board is to provide general direction and guidance to the DEAR Program while holding the program accountable to its goals within a race equity framework.
Additional members not pictured include:
Archie Smith, Clerk of Courts

Gina Reyman, Legal Aid of NC

Billie D. Hopkins, Clerk's Office

Lynn Vaughn, Clerk's Office

Gudrun Parmer, Criminal Justice Resource Center
Dale Morrill, Assistant District Attorney

Stella Boswell, Duke Law School

Yesenia Polanco, Immigration Attorney

Selene Juarez, Community Member

Chuck Manning, Jr., Durham Innovation Team
Fueled by dynamic Collaboration
Members of the DEAR Advisory Board first convened in January 2018 at the request of Judge Amanda Maris to design a first-of-its kind, court-referral expunction program (later named, the Durham Expunction and Restoration Program or "DEAR"). The Expunction Program under DEAR works to identify parties in the court system eligible for expunctions in "real time" at the disposition of their case and provide them with unprecedented, timely legal relief through referral to a coordinated network of free legal providers in the Durham community and/or to one of four DEAR Program staff attorneys.
Prior to the inception of the DEAR Program, there was not a systemic mechanism in place within the court system to refer parties to this type of legal relief in North Carolina, and quite possibly in the nation. Historically, parties typically learned of eligibility for an expunction or a certificate of relief months after the moment of eligibility, long after the negative impact of a charge remaining on their criminal record affected their employment, housing and educational opportunities. These collateral consequences to a person's life, which often extend beyond the individual to their family and their communities, can be avoided under North Carolina law with the legal relief DEAR aims to provide. With far too many people either unaware of this relief or unable to afford to pay for it, DEAR will hopefully alleviate and remove these barriers to the justice system with its Expunction Program.
Through the broad collaboration of the many partners to DEAR within the court system, local government and the community working together on the Advisory Board along with the City of Durham's Innovation Team, the Durham Expunction and Restoration Program (DEAR) was ultimately created, marrying the Expunction Program that developed in 2018 with a more advanced driver's license Restoration Program designed to build upon the past work started in 2017 by the City of Durham and the Durham District Attorney's Office (including Judge Josephine Kerr Davis in her former role as an Assistant District Attorney) to expand access to driver's license restoration through targeted traffic debt-relief.
The members of the DEAR Advisory Board met monthly throughout 2018 to design the DEAR program. DEAR began operating, in part, in October 2018 along with the first community partner expunction clinic taking place under the Durham Expunction (and Restoration) Network: Duke University School of Law hosted its first partner clinic in October 2018 also its very first expunction clinic in the law school's history. In December 2019, The NC Pro Bono Resource Center (through The NC Equal Access to Justice Commission) hosted its inaugural clinic, supervising Durham Assistant District Attorneys and Assistant Public Defenders in staffing a never before jointly-sponsored clinic. The N.C. Central University School of Law will host a partner clinic in the spring of 2019 under the network, and the Southern Coalition for Social Justice continues to be a valuable community partner along with members of All of Us or None who provided a session on community empowerment to attendees at the December clinic.
The DEAR program was designed by the partners to provide increased access to expunctions, certificates for relief and driver's license restoration through various methods: the community partner clinic within the Durham Expunction and Restoration Network, self-representation facilitated by the DEAR Program and through direct representation by a DEAR attorney.
The Advisory Board will continue to meet in 2019 and offer further guidance to the DEAR Program for both the Expunction and Restoration Programs within DEAR as they continue to developed and implemented.